Halloween 2012
 This year Odin wanted to be Lloyd ZX, a Lego Ninjago character. The costume wasn't one we could buy but it didn't look too hard to make so  I gave it a try.
This is what the character looks like:
*I decided not to make the armour or weapons, mainly because they wouldn't work well for a nine year old that was going to be wearing the costume for several hours at a time - and because weapons are not allowed at school.
First I sewed simple drawstring pants and a tunic.
Then added decorations - hand painted chainmail and a screen printed dragon on the back of the tunic. These pictures are all of the same fabric, but the shots with flash make the green look very different.
 Finally I worked on the accessories - the head gear, the silver ornamental headpiece, and the belt. Pretty simple stuff, I just attached fabric to a toque for the ninja headgear, the headpiece is a belt and cardboard covered with tinfoil, and the belt was an adult Halloween belt that I sewed smaller to fit my stepson. I also repurposed a sweater from Value Village to make the long arms and the white portion of the top of the costume
Here is the finished product!
Halloween 2010
I am going to be Lena Inverse (from the anime Slayers) for Halloween, and my husband is going as her knight in shining armour Gourry Gabriev.
 Lina Inverse and Gourry Gabriev from Slayers
 A friend as Zellos, my husband as Gourry, and myself as Lina (for all you nerds out there!)
The costume is a lot more complex than anything I have made before, and consists of the following parts:
Fuschia pants and fuschia shirt with purple trim

Yellow bandeau and undies (for over the fuschia outfit)

Black and purple cape

Boots/gloves/sword (these parts I just bought)

Shoulder armour (made with paper mache)

Belt with bauble

Headband

Red hair (I dyed mine with henna)
The body suit and yellow components, cape, and headband were all sewn by me; the paper mache armour was a joint effort between myself and my husband, and the finished product probably took 30+ hours of work in total. However, I think it was worth it!
The Pink Outfit:
 I found cheap, perfect material and I made the pants! They were actually my first real sewing project, so I was a little nervous but they were super easy (I didn't even use a pattern).
The shirt was a little more complicated, but turned out alright. It's pretty tight though - I realized in the end I had just made myself a skin tight hot pink body suit. Yowza!
The Yellow Outfit:
The yellow "outfilt" is basically a tankini. It consists of a bandeau top and basic brief style undies. I think I did a decent job on the top, but the bottoms were a little...snug (as you can see below). However, the end result turned out great :)
The Cape:
The cape was definitely my favourite part of the costume, both to make and to wear. It is pretty basic - just two pieces of fabric sewed together using bias tape and darted on the shoulders - but I was really happy with how it turned out. My only issue is that I wish it was a little bigger.
The Armour:
The armour was made using chickenwire, then covered with a couple layers of paper mache, spray painted and decorated, and then covered with packing tape to make is somewhat waterproof. The baubles are Christmas decorations painted red or green and then mounted on cardboard that was painted gold.
This is the beginning of the armour endeavour:
 The End Result:
3
And my stepson's costume...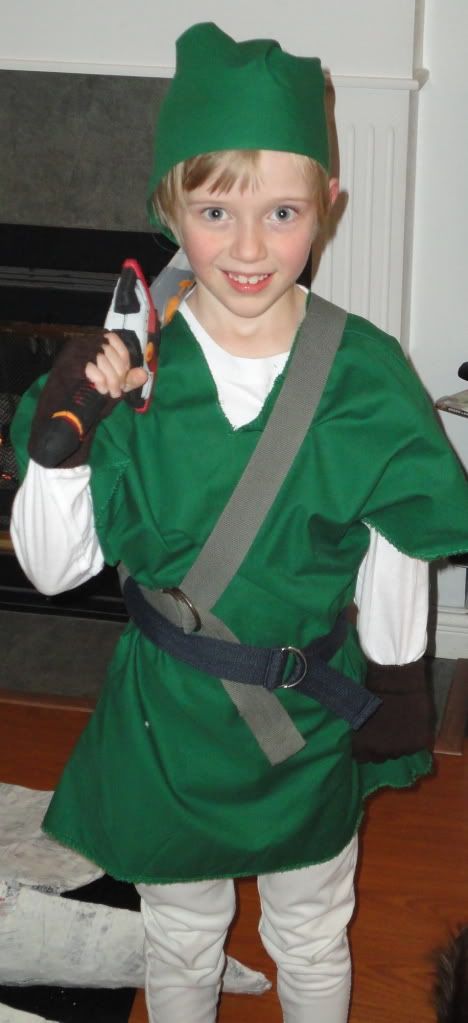 My stepson as Link!
My stepson wanted to be Link from the Legend of Zelda videogames for Halloween. I thought "hey I could make that!" So I taught myself to sew...
The costume is pretty simple. Green tunic and white leggings (these I made), white long sleeved undershit and a couple of belts (these I bought), a sword and shield (we made a simple shield out of cardboard and used a toy sword we had lying around) and gloves and boots. Since making boots was way out of my league we sort of fudged this with some brown material attached to the lower portion of the white leggings. For gloves we bought some cheap brown gloves and cut the fingers off for a more "authentic" look. Total time was probably a full day of work, but that was only because I am such a novice seamstress. Someone that has used a sewing machine more than a couple of times could probably whip off the complete costume in a few hours..
As you can see in the picture below it's a pretty rough sewing job, but it's help up through multiple wearings, playground antics, and the washing machine, so I'm pretty happy. And he LOVES it, which is the most important thing.